Flooring is one of the major parts of our home as it serves a wide array of needs and requirements. A good-looking floor can add value to your home and marble. Marble flooring can make a difference between the visual look and the finishing of your home.
It should be attractive and glorious. While designing your home it is very important to consider the marble flooring which perfectly suits the home setting and decor.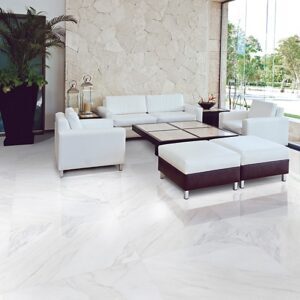 Top Five Flooring Designs For Your Home
Marble flooring is one of the primary elements that come to your mind while designing your home.  If you are planning to buy a marble flooring option for your design space here is the five of the top marble flooring looks that could perfectly suit your need and requirements while designing your home.
This complete guide will help you to give flooring ideas to build a gorgeous home. Marble flooring comes in Vivid colors, patterns, quality, and versatile cost options as It can withstand all weather. You can install Marble flooring tiles of varying shades – black, gold, ivory, and beige.
There is a wide array of marble flooring tiles are available in stores, within color, finish, texture, and overall look. So you need to find out which marble flooring will add to the beauty of your house.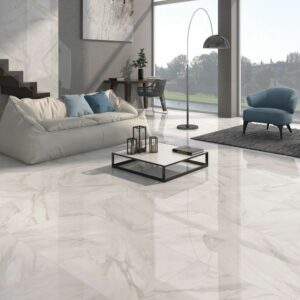 Glazed Marble flooring
One of the Most Popular Marble flooring tiles is Glazed or Polished marble flooring. This marble tile gives an intensive and polished shine to the floor. This Marble floor tile is a widely used flooring material due to its high durability and attractive look.
It helps to emphasize the flooring tile's value by making it look cleaner and clear. These kinds of flooring tiles are easy to maintain and clean and give a magnificent and timeless look to your home. If you want to give luxury ambiance to your home this marble flooring is an excellent choice.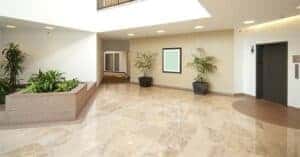 White marble flooring
There is nothing pretty much classier than the white marble floor. White marble offers a lavish appeal to any space. It is one of the premium quality flooring materials in terms of looks and pricing. The best part about white marble flooring is that it can be styled and designed as per the desires and description.
It is prized for its high gloss, high polished finish, and pure white elegance that is hard to achieve with any other flooring material.  It provides a smooth appearance and offers natural elegance. It has been used in many architectures, sculptures, and buildings for ancient times.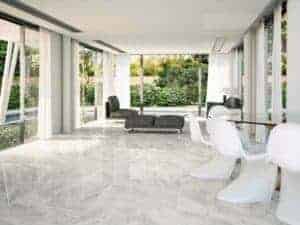 Italian Marble flooring
If you are planning to add a unique texture to your floor, then you can choose the Italian Marble flooring. This is the most popular marble all over the world for its shining, quality, and durability. Also, it is easily available in domestic and international markets at a reasonable price.
Italian marble floor tiles designs are mastered with a polished finish with an authentic texture. Italian Marble comes in various ranges and shades such as black, gold, ivory, and beige.
You can buy these marble floor tiles in both glossy and matte finish. Italian Marble flooring is very easy to maintain but it requires little care. It perfectly matches with stylish textures and designs that suit with artistic feel and appearance of your space.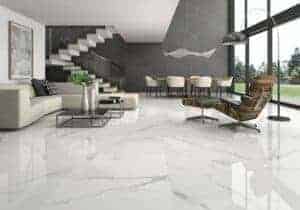 Grey cloud marble tile flooring
Grey marble floor tiles are durable tiles that come with a modern look that coordinates very beautifully with other natural marble and stone products. It is featured by its grey color tone in a dramatically raised texture. It can be used for indoor flooring which gives a sense of classiness and adds beauty to your home.
It has been verified its popularity due to its easy maintenance with simple care and ease of installation than other stones. It is extremely durable and resistant to burns scratches and chipping.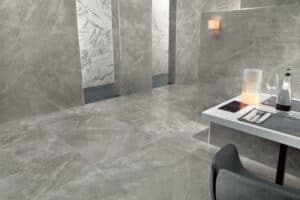 Ceramic Marble tile flooring
If you have been thinking to install flooring that requires a waterproofing surface, then ceramic marble tile is the best flooring option you can choose. These tiles are versatile and durable and can be installed in any part of your indoor and outdoor flooring.
It comes in various finishes such as embossed, matte, glazed, and textured. It truly works in any room of the house. It is mostly used in kitchens and bathrooms as well as the outdoor areas of the house. It is the most durable flooring option as it requires very little maintenance. It offers a glass-like shine when polished.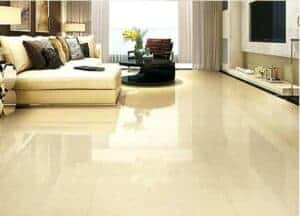 If you are looking to buy the best stone contact Mahaveer Marbles India to get stone at the best rates & discount contact us here at +91-9142334233