Granite is a hard, igneous rock consisting mainly of quartz, mica, and feldspar which is used as a building stone. It is one of the most durable and timeless stones which is used in many design projects. To maintain quality and granite proper cleaning is necessary.
Granite is a natural stone that required some special attention and regular cleaning. Granite floor tiles have become very popular in exterior and interior home designing projects. Granite tiles can be scratched and damaged if not maintained properly.
How to keep granite tiles clean?
You can clean granite surfaces using granite-friendly cleaning solutions for years to come. Red Granite is a truly stunning material and you can use it in bathrooms, rooms, kitchens, flooring. You can run granite tiles for so many years if you look after them properly.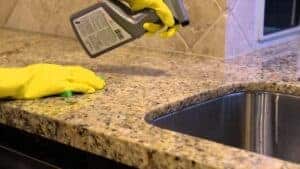 Regular Granite Tiles Cleaning Tips
Granites tiles are slightly more expensive. Here we are going to discuss some easy and important instructions for cleaning granite tiles on regular basis.
Use a good quality liquid soap. Don't use abrasive cleaners or bleach.
Always use distilled water, soft, and clean mop to wipe the floors.
To bring up shining on the floor a dry, clean, microfiber cloth.
Do not use rough sponges or scrubbers for cleaning.
For better cleaning use warm water and a soft cloth.
Red wine, soda, and coffee can be dangerous if it is left for too long on your granite floor.
To remove the stain from granite tiles you can make a paste with baking soda and water and apply it on the stain.
In light color granite, you can also use hydrogen peroxide to clean the stains.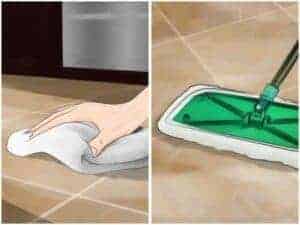 Tips to keep granite tiles clean
Use a dry mop to clean the area: Before you start cleaning your granite tile it is important to clean the area with a dry mop. It saves your granite from scratching.
Use warm distilled water and good soap: If your granite is not clean then use warm distilled water to clean the surface. Avoid the soap which has lots of dyes and fragrances. For best cleaning dilute a few drops of the soap in a bucket of water and clean with a soft cloth.
Clean All the spots: Properly clean all the tiles left to right in one row before moving to the next. If your granite tiles on the floor, then clean the corner also.
To avoid water spots, dry the granite: Clean the granite tiles using a soft cloth. You can use circular motions to dry the floor of granite. To clean the granite, you can use old t-shirts without any print to avoid scratches.
 Removing Tough Stains: To remove the tough stains you can use a granite-safe cleaning solution to clean the flooring. Spray the cleaner and wipe with a soft cloth. Dry the granite tile with a soft cloth to minimize water stains.
For Deep Stain Use Baking Soda: If your floor has not been washed in a long time then make a mixture of baking soda and water and spread the paste on the stain and cover it with plastic wrap. Leave this paste for hours on the affected area and then clean the granite tiles using soap and warm water.
Properly Clean the grout: Grout is a magnet for dirt and dust. If your grout is not clean, then it looks dirty so it is very important to clean the grout. To clean the grout between granite tiles you can use a small toothbrush. Do not use any kind of scrubbers to clean the granite flooring.
Clean Granite Floor Regularly: To maintain the shining and appearance of granite clean your granite tile with a dry cloth every other day to remove surface dirt from the granite. Sometimes you can also use soap and water to clean it.
Be Gentle: For cleaning the granite tiles use warm water mild soap and a soft washcloth. Do not use any scrubber on the tiles.
Conclusion
It is very important to maintain granite tiles floors on regular basis. Also sealing of granite once a year is also required to protect it and to give its glossy shine back. Check your tiles on regular basis to find any cracks or chips.
Pink Granite gives royal looks to your home interior and exterior designing projects. Always try to use distilled water and don't use chlorine or other minerals.
Granite tiles are used in an entryway, hallway, and kitchen countertops. Granite gives a luxurious look to your home. Granite needs constant attention and regular cleaning to keep up its look. if you are looking to buy any kind of stone click here