Flooring plays a very important role in home decor and it is very important to choose the right flooring that can set the tone of the room. The flooring design and pattern you choose for your home should meet the functional and visual requirements of the room.
Flooring can add essence to the interiors.  The right kind of flooring gives your home a beautiful and natural look. Different kinds of an area required different types of tiles. Here in this article, we have discussed Vitrified Tiles Vs Marble Which Is the Best Option for Your Home? Marble is one of the hard building stones and where tiles are required a lot of care.
Marble: It is used as a building stone due to its unique position. Marble stones are made up of limestone that has undergone heat and pressure. To maintain marble properly they need regular polishing, that's why it is not used in rooms that are frequently used as bathrooms, kitchen, or children's rooms.
It is a highly durable stone and water-resistant in nature. While selecting marble to make sure that not to choose the extremely shining variety because it attracts dust and may also have chances to cracks.
Vitrified Tiles: Vitrified tiles are made up through the process of vitrification. A heavy load can cause the tiles to break. Vitrified Tiles are different from some problems found in ceramic tiles. Tiles are available in many different patterns and designs. Tiles required a lot of care and maintenance. Vitrified Tiles are pre-polished and ready to be used.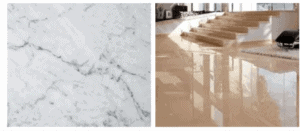 How are Vitrified Tiles & Marble are made?
Tiles and marble are quite different in nature but there are some characteristics that are unique to each other.  As time duration extended marbles white color turn into yellow whereas vitrified tiles retain their color for decades.
Vitrified Tiles are made with a mixture of ceramic, clay, porcelain. These tiles have a very smooth texture.  Vitrified tiles are a demanding material nowadays and it became popular among architects. It is a manmade material that can be easily replicated by machines.
Marble is a natural stone with rich beauty which is widely used in architecture. It is porous in nature and made up of calcite, dolomite, or limestone. It has a high water absorption capacity. Marble gives a very eye-catching and natural look to your home indoor and outdoor projects.

Durability
Vitrified tiles are easy to clean and maintain also they are both scratch and discoloration resistant. But vitrified tiles have low strength and are prone to breakage. After once damaged or broken, these have to be changed.
Marble has good and remarkable strength. Marble is porous in nature that might lead to stains and also easily gets affected by acids. Marble required regular polishing and proper cleaning it may last for a really long span of time.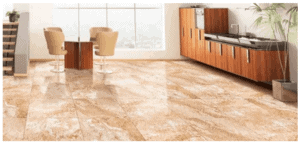 Which is easier to install?
Vitrified Tiles are usually easier to install as compared to marble. The setting of vitrified tiles is shorter and the work on the installation is also less. Tiles can be cut manually and they already come with good polishing.
Marble has heavyweight and is very delicate in nature. It is very difficult to transport marble from one place to another.  Marble installation takes so much time to install. Marble required many processes involved like cutting, grinding, polishing, and finishing.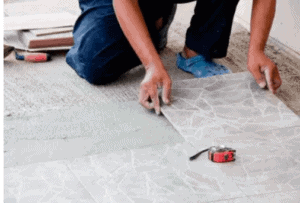 Usage
Vitrified Tiles can be used in both interior and exterior home designing spaces. These tiles can be used for multiple purposes. Due to tiles' easy installation process, you can use it in many different applications of your home décor.
Whereas Marble Tiles are more appropriate for interior designing projects. Marble makes the look and feels of your space a lot more appealing and comfortable.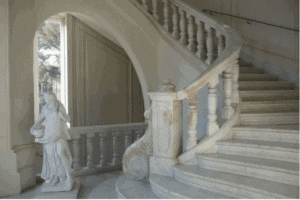 Appearance and Finishes
Vitrified Tiles are available in matt, glossy and anti-skid finishes with a kind of colors, textures, and patterns that can be used in many interior and exterior designing projects. This tile looks so beautiful with its rich color appearance. It is available in different types of colors, designs, and patterns. There is a wide variety to choose from and it increases the demand.
Marble is a natural stone and it looks speaks a lot. The grain lines on the marble look amazing. Well-polished marble gives a luxurious and rich look to your interior designs. It is available in many different colors and shades like natural hues, shades of black, green, brown, white, yellow, and apart from the polished finished, and marble can be used for the rough texture.
Pocket Pinch
Vitrified tiles are man-made and you can buy them at a pocket-friendly price. These tiles are available in various styles. The installation process of this kind of flooring is also cost-effective. These tiles can be bought ready-made and installed instantly. It is a low-cost material and also it takes very little time to install.
Marbles are more expensive as compared to tiles. As they are naturally occurring stones and sometimes it is imported from various other countries. Before the installation, process marble needs to be cut to specific sizes. Marble installation process a lot of time also it requires finishing after installation. And this whole process is costly as compared to vitrified tiles.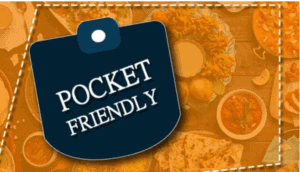 The Care Guide
Flooring is the most important part of your home you walk on them, run on them, dump stuff on them, and drop things so it is very important to take care of them to give them a long life. Tiles are water resistant in nature and it is abrasive substances. Tiles can be easily clean with water and a soft cloth. Tiles are not stained easily, so they don't need much cleaning regularly.
Marble is a porous stone in nature. It is prone to absorbing water or it can have damaged by acids or alkali, so it required much care as compared to tiles. To remove the stain from marble flooring clean it regularly with lukewarm water and a mild detergent. Marble also required time to time polishing to maintain its shine and luster.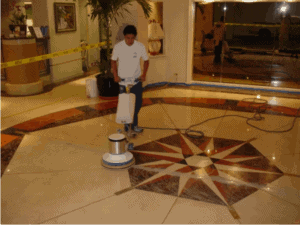 Vitrified Tiles are usually easier to install as compared to marble. These tiles can be placed in a proper manner and shape. While on the other hand marble tiles may require a longer period of time. Also, it is very difficult to transport from one place to another. Caring of marble is more required as compared to vitrified tiles.
Conclusion
Both Marble and tiles can be used for your home flooring purposes. You just need to choose the right material according to your requirement and budget and maintain it with love and care. Marble and tiles both give an amazing and impressive look to your home flooring. if you are looking for the best marble supplier you can contact us to avail the best discount on all the stones.