It is very difficult to choose the best marble slab for your countertops. The right decision of the countertops can change the look of your home. Countertops are used to make beautiful and elegant designs to provide a luxurious touch to your flooring area. The countertop is the main part of the kitchen and the central part of your room. Marble countertops add beauty and just glow in the kitchen. This natural stone absolutely looks stunning in the kitchen.
Marble is highly sensitive you need to take care of them properly. Choosing the right marble slabs for your home is very important. Choosing the right slab in the right way can save you valuable time and reduce your level of stress. If you are looking for the best Marble Slab Guide for your countertops designs, then you are in the right place. Here in this article, we are going to discuss some best things to remind you while choosing the best slab for your Countertops.
Countertops are the best thing that you will choose for your home. It is not much difficult to select the best slab for your countertops but you should have proper guidelines. There are lots of varieties of colors and patterns are available in the marble slabs.
Marble is one of the best countertops material. It is very important to choose the right color and texture of your slabs for your home interior designing projects. Make the right perspective while choosing the marble slab.
Marble Slab Guide

Choosing Marble Slabs
Here we are going to discuss some important tips related to the Marble Slab Guide which you need to remember at the time of choosing the best slab for your countertops.
Try With Samples: It is the idea to match the color coordinate to your home and living area countertops. To get the best result you can also take pictures of natural light and artificial light. It is very important to coordinate the floor and stone countertops to get a better appearance for your home.
Think About Aftercare: There are many factors to be considered while deciding on the best marble material for your home designing projects. All the material has different applications and features.
Choose the right marble slab which has easy maintenance. While choosing the kitchen countertop slabs you need to take care more because the appearance of the stone will change over time.
Take Your Time to Choose the Right Material: You have to choose a proper material with a good appearance so take some time to look around also you can take photos of them. Choose the perfect color countertops combination which matches your flooring area.
Choose The Perfect Color: If you want to give a perfect and unique look to your home countertops designing projects then choose the perfect color combination. Color should be perfect to match your existing kitchen elements. Also, list out your question regarding countertop material.
Quality Check: Marble slabs can be easily cracked if it is mishandled also it can be cracked at the time of the shipping process. The best way to check it run your fingernail across the surface.
If your nail snags, then the slab is cracked. Before choosing the marble countertops slabs properly check the quality of the material.

True Facts About Marble Slab Countertops
The marble slab has a unique crystalline structure. These are more durable and scratch-resistant in nature. It is very easy to clean the marble countertops. It adds beauty to glows in the kitchen.
You need to protect marble slabs from vinegar, citrus, and tomato it may damage the marble surface. This gives you classic and timeless beauty to your countertops which is not available in granite.
Marble Slab is porous in nature also it has the quality to readily absorb liquids. It maintains a cool temperature does not conduct heat very well. Marble slabs are very strong and resistant to damage.
Multiple Uses of Marble Slabs
Marble is made up of calcite so it has good strength power and abrasion resistance. This is used to make kitchen countertops and room countertops. It is not easy to choose the right Slab for Your Countertops.
You have to choose your countertops according to your lifestyle. Choose the perfect material according to your level of maintenance and budget. Marble slabs are also used to make tables, shower seats, marble trays, and marble picture collages.
Marble is one of the most popular natural stones which is used in many construction areas. Marble slabs are used in both commercial and domestic buildings. Due to its long-lasting durability, it becomes a popular choice for many home remodeling projects.
Choosing the right marble slab guide for your room and kitchen can enhance the beauty of your home. It is the part of the decorative accents in building constructions. Marble slabs becoming more popular when it is used in furniture construction.
This can be carved into columns, fireplace surrounds, and decorative benches. There are many ways to use marble slabs in interior design projects. These are also a popular choice for large room flooring.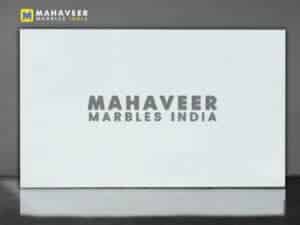 Important Characteristic of Marble Slab
Marble slabs are widely used in buildings, monuments, and sculptures.
Basically, marble is a combination of carbonate minerals and calcite.
When marble is cut in the form of slabs of a specific size is known as "dimension stone."
Marble slabs do not crack easily and also it is known for their beauty, strength, and resistance to fire and erosion.
Marble is in the form of light-colored rock with very few impurities in white color.
Marble is the chemical form of calcium carbonate.
Marble also contains other minerals, such as clay minerals, micas, quartz, pyrite, iron oxides, and graphite.
Marble slabs are used for stair treads, floor tiles, facing stones, paving stones, cemetery stones, window sills, ashlars, sculptures, benches, and many other uses.
Varieties of Marble Slabs
There are huge types of marbles available in different colors and veining intensity. The appearance of marble slabs varies from location to location. The prices of slabs also vary which is depending on the various factor.
It is a luxurious option when it comes to the decoration of buildings. Marble is one of the most famous natural stones which can be used by architects, sculptors, and designers.
Marble is a versatile material that is used is used for the decoration of walls, floor, ceilings, fireplace surround areas, and backsplashes. Marble slabs are also used to decorate your outdoor spaces such as the pool deck, garden, walkways, driveway, and fountain area.
Conclusion
If you want to renovate your kitchen and room countertops, then choose the right material according to your requirement and budget with the perfect color combination. Take your time to choose the marble and make sure you are happy with your result.
You can also follow the above-mentioned guidelines to get perfect countertops for many years to come. Choose the best stone for your kitchen countertops to give an amazing look to your home designing projects. If you are looking to buy stone for your home or any other project Mahaveer Marble India will help you in choosing the right stone.