When it comes to home decor, It is necessary to choose the right kind of marble countertops to give an allegiance look to the home structure then white marble is the top choice for your home. Because there is nothing more beautiful and classy than white marble.
I have seen many people who get confused to choose the right type of natural stone. So if you are one of them This page is for you. Here on this platform, you will get A Guide to Choosing & Maintaining White Marble to build your house.
So stay tuned to this page I'm gonna walk you through the complete guide to choose the marble countertops.
Marble is a compact metamorphic rock composed of recrystallized carbonate minerals that have been subject to high temperatures and pressure.
Marble is an ageless natural stone that was utilized as a part of numerous renowned structures, one of the best examples is the Taj Mahal. Its appearance is classy and unmistakable, with a smooth base and Finish.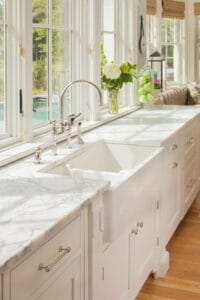 White marble looks fresh, exquisite, and clean. Marble countertops are one of the best luxurious flooring selections for use in the home and office. Marble Countertops is one of the good options for flooring material due to their pretty and clean look.
It is the perfect choice to use in confined spaces as well as use in kitchens and bathrooms. You can use any type of material with white marble because it can easily combine with any type of marble.
There is various kind of White Marble Countertops. Slabs are available in the market to have their own properties so it is obvious to consider these all factor to select a marble countertop is a right fit for your kitchen.
 In order to choose the best marble countertop first, you need to know the thing is their properties, cons, and pros on the basis of these things you can go for the choice of the best marble countertops that suit your design space.
A Guide to Choosing & Maintaining White Marble
Here are the factors which you should keep in mind while choosing & maintaining White Marble. This will be helpful for you to pick the right Marble Countertops to design your structure.
Also Check Out: A Guide for Choosing Marble Flooring which will help you to choose better marble for your home.
Easy to maintain:
White Marble requires more maintenance than other types of natural stone due to its porosity.  It's more difficult to clean water stains and spills from marble countertops. So All marble countertops should be treated with a surface finish.
Affordable Price:
Marbles are available in varying price ranges. As per your budget choosing the marble will give you a clearer idea which is completely dependent on the thing for the place you are going to build is for your work or residence.
Variety
Marble comes in numerous colors and vein patterns. In order to give a perfect and radiance look to your space, you must be choosing the variety of marble that suits the needs of your space.
Quality and durability
Choosing the right kind of marble stone for your home is a big-time investment. So while choosing a marble countertop for your home, always consider its durability and sure your choice is worth the money.
How to maintain white marble
Here are the tips and tricks to maintain the White Marble to keep its quality and durability long-lasting
Clean the surface with warm water and a gentle dish
To clean and maintain marble countertops, we have to use warm soapy water and a soft cloth to make beautiful your kitchens and bathrooms. You can use mild soap for clean marble countertops because won't harm the stone.
Remove Stains with baking soda and water paste
It is more difficult to clean water stains and spills from your kitchens and bathrooms. Here are the tips to Remove Stains with baking soda and water paste
Spreading a baking soda and water glue on the spot.
You just cover the area with plastic wrap, using tape to seal the edges.
You have to wait 24 hours
Wipe the paste using a warm, damp cloth
You can use hydrogen peroxide to remove stubborn stains on light-colored marble, one more option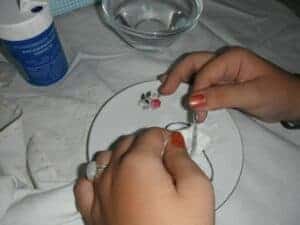 Don't use acidic substances on Marble Countertops
Avoid using vinegar, Windex, and bleach as well as lemon-based products. Because these types of products eat the marble surface and make the stone appear full dull.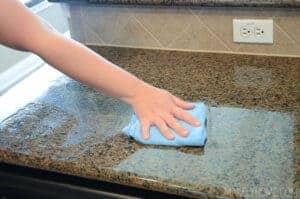 Use soft cloth
For clean marble countertops, use a soft cloth in the circular motion and rub out any water stains if you find them on the surface.
Click Here to Know More About White Marbles. You are looking to buy the marble or stone give us a call here 91-9142334233