Granite and ceramic both are natural stones having remarkable features like sturdy, long-lasting, classy choices for flooring. It is important to choose the right construction material for flooring purposes. Choosing between Granite and Ceramic tile completely depends on the space Where it's being used and also the ease of installation, cost.
Granite and Ceramic tiles both are the most durable material.  So here in this article, we are going to give you a complete guide about Granite & ceramic tile which is better for your home.
Granite Tiles
Granite is a hard natural stone with grains and large enough to be visible with the unaided eye. It is quarried from the Earth's surface. It is composed mainly of quartz and feldspar with minor amounts of mica, amphiboles, and other minerals.
Which makes it resistant to staining and with excellent moisture-repellent qualities. Granite is It's easy to clean maintain. It is formed under extreme heat and pressure. This stone comes in a wide variety of colors and patterns in the form of slabs to make it adjustable to any space
If you are looking for a tough and high-efficiency tile to give the stylish look to your design space and retain its relevance and superiority over laminate tiles, then you can go for granite.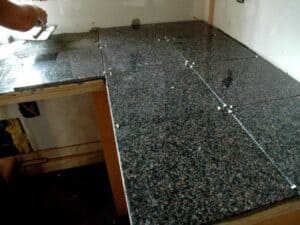 Ceramic Tiles
Ceramic tiles are composed of sand, natural products, and clays. It comes in a variety of colors, finishes, patterns, and styles. It has a beautiful appearance that is the reason most homeowners prefer the more controlled appearance of ceramic.
These tiles come in glazed or unglazed. Glazed tile gives a shiny, polished look whereas unglazed tile appears more natural and rustic. Ceramic tiles have a much longer life and durability as compared to other materials and it is resistant to moisture.
You can consider the ceramic tiles flooring in wet areas, as they are impervious. glazed ceramic tiles provide the best protection against kitchen elements as their surface prevents staining.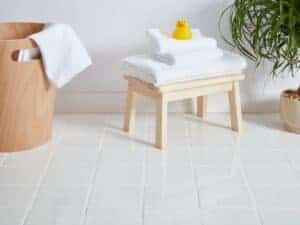 Granite VS ceramic Tiles
| | |
| --- | --- |
| Granite | Ceramic Tiles |
| Ceramic tile has many variations in terms of colors, finishes, patterns, and styles. | Granite has limited variations. its appearance is marked by irregularities and color variations. |
| Ceramic tiles require high maintenance | Granite is the most durable and hard porous stone which makes it more likely to be resistant to stain as it requires low maintenance |
| Ceramic tiles have low cost | Granite is more expensive than ceramic tiles |
| Ceramic tile can be installed by a do-it-yourself. | Granite cost more expensive to install than ceramic tiles because installing it is more difficult |
| Ceramic tiles are resistant to moisture which makes them suitable for flooring purpose in wet areas. | Granite has a molecular density which makes it one of the hardest and most durable natural stones in use nowadays |
Granite Floor Tiles and countertops are extremely resistant to knife scratches, Heat, and acid erosion. It naturally resists heat and cracks so it can be used for Normal cookware, kitchen knives and cutlery can all be used on granite countertops without fear of scratching the surface.
Conclusion
Granite & ceramic Tiles both are perfect to make it an ideal building material for indoor and outdoor design projects such as bathroom floors. Both construction material helps to keep it looking long-lasting and timeless and protect it from damage.
It is porous to water means to seal it to make sure it is protected from water damage. Both natural stone has the property of high durability which has made it a popular building material for centuries.
Looking for Marble & Granite Check out complete Range